4 Ways AI Can Help You Pick An Outfit (With a little bit of Judging)
Lights, camera, action, code!
Fashion and artificial intelligence are not two things you would put together unless you envision a very well dressed robot with a modern sense of style. Yet math has infiltrated the world of fashion in every aspect from the design process to apps that help you pick out outfits.
Brands already use online shopping and apps to enhance and simplify the ultimate shopping experience and AI helps to personally tailor your choices.
As long as people wear clothes, fashion will be a huge area for investment and research. The question is, will people let a computer algorithm give them fashion advice? Is it easier to take criticism and be judged by an app than a human?
Have a look at what's happening in the world of fashion and see how surprisingly, AI can help you pick out an outfit.
1. The AI Fashion Stylist
Amazon has introduced a personal fashion stylist in the form of Echo Look. Straight away I can think of a few people who would love to try this out. Some of the comments in the questions and answers on the Amazon site will give you a bit of a giggle, but in all seriousness, it's a really good selfie camera.
At the core, Echo Look is an Alexa with a hand free camera that lets you take full-length photographs of yourself or 6-second videos. You then view those photos in the app, which blurs out the background, making you and your outfit stand out. You can compare two photos at the same time using the style-check feature, and get a score on what the app thinks is better. It's a machine learning algorithm giving you fashion advice, but it's up to you if you take it! Other features include organizing your photos into collections and making your own lookbook.
Echo Look also gives you personal style recommendations if you're looking for an item to match something you already own. This isn't completely new, there are a few pick my outfit apps doing this already such as Pureple and Intelistyle.
2. Digital Fitting Rooms
Have you ever been in a dressing room, where you picked the wrong size or wanted to try on something else, but you had to get dressed and go back out to find it? Digital mirrors are the answer. Mango and Vodafone are rolling out digital fitting rooms in certain Mango stores.
The technology for the Internet of Things (IoT) mirror was developed in collaboration with JogoTech. Vodafone said:
The digital fitting room has been designed around a new Internet of Things (IoT) digital mirror…which will allow the shopper to scan the clothes tags in the fitting room and then contact shop floor staff directly from the mirror, through a digital watch, to request different sizes or colours. The mirror will also suggest additional clothes to complement the original choice.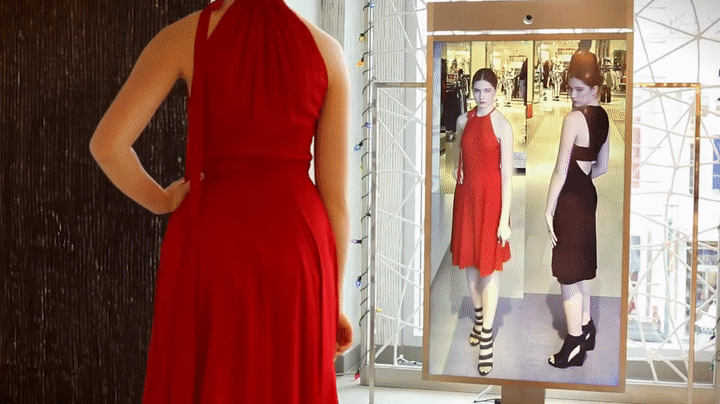 Not just Mango, brands such as Neiman Marcus and L'Oreal are working with the Memory Mirror, also known as MemoMi. Smart mirrors or virtual mirrors have a multitude of applications from trying on clothes to putting on makeup. There's plenty of competition in this space with Samsung's Mirror Displays being used in hairdressers and fashion shows.
3. Visual Search Tools
ASOS Style Match
If you're a fan of the 'Get the Look' sections in magazines, then you'll like the new ASOS Style Match. It's a new app feature that lets users upload a photo of clothing and match it to a similar style in the ASOS catalogue. For example, say you see something on Instagram, a website, or even take a photo yourself of someone wearing a top. You save the image to your phone's camera roll and upload it to ASOS. The actual feature is built into the search bar. The system will search through the ASOS database and display a list of results with similar looking items, that might have the same pattern, color, shape or general look and feel.
Above, I took a photo of a flowery top to see what the app would do with patterns.
This is a great example of how image recognition technology is being used by a clothing brand and implemented directly into a simple search tool that customers can use.
Research
Finding clothing worn in a video is another challenge. Imagine you are watching a movie, TV show or YouTube video and think, 'I wonder where I could get something like that to wear'. Identifying fashion items from a photo is no easy task and video is even harder. At the moment if you wanted to find out what a character was wearing in a TV show, you could use a site like Worn On TV.
An interesting proposal on how to achieve this using AI is discussed in this paper. Dress like a Star: Retrieving Fashion Products from Videos, by Noa Garcia George Vogiatzis. It's going to be a while though before you see that technology around.
4. The AI Fashion Designer
Tommy Hilfiger
Designing fashion has always been a creative task, done by humans. But every designer needs a little inspiration here and there to help get those creative juices flowing. That's where technology can help. Think about the number of photographs taken every day of people. Since people wear clothes, there is an untapped data source of information just waiting to be processed by deep learning algorithms.
Tommy Hilfiger recognized this potential and partnered with IBM and Fashion Institute of Technology to form the Reimagine Retail Project. IBM's' AI research tools were used to predict upcoming fashion trends and styles to help speed up the design process.
Avery Baker, Chief Brand Officer at Tommy Hilfiger said:
"Using IBM Research AI tools and an extensive library of Tommy Hilfiger product and runway images, the students were able to create forward-looking designs in line with our brand aesthetic. These designs incorporated patterns, colors, silhouettes and styles, all of which were generated by AI."
Stitch Fix
All this technology empowers young designers but doesn't replace them. Instead, it replaces mundane repetitive tasks and identifies market gaps. This leads us to Stitch Fix, an AI-driven company that produces 'Hybrid Clothing Designs', part man, part machine so to speak.
The mathematical algorithms produce clothing templates based on extensive data gathered and suggests these ideas to designers. It also recommends styles for users based on their expressed tastes. If people are looking for a particular piece of clothing that actually doesn't exist yet, it sets off alarm bells in the system, that maybe the AI should make something like that.
The Stitch Fix service posts items to customers who try clothes on and send back what doesn't suit. Over time the system learns what you like and hopefully makes the right suggestions for you.
Recently launched is Stitch Fix Kids, so you can personally shop and style your little ones. If you're interested more in the math, take a look at their algorithm tour.